September was a busy fishing month, with the weather thankfully much improved after the storms and flooding in August.
Possibly the most exciting news was the appearence in Bantry Bay of shoals of spurdogs, big ones some of them. The boat doing mostly short trips out of Glengarriff was reporting them on their Facebook page late in August and into the first few days of September, seemingly mostly high up the Bay, not far below Garinish Island I think. I got as far as having a look for some shore access in that area but there doesn't seem to be much - a mark that seemed promising on Google looked much less so on the ground. I didn't pursue it as the spurs didn't reappear on the next set of tides; I suspect their appearence coincided with some really exceptional numbers of mackerel in the Bay and once the mackerel started to thin out the spurs were gone. If anyone knows of any shore access to deep water up towards Glengarriff I'd be very happy to hear from you for future reference.
On the 1st of the month I headed to a north coast mark on Sheep's Head mainly intending to get a hit of mackerel for the smoker and the final top-up of my bait freezer. There'd been loads of mackerel on this mark for several weeks and it had become quite popular, and I'd noticed some of the guys fishing were cleaning the mackerel on the spot and dumping the heads and guts over the side. It seemed too good an opportunity to miss, so I took one of the big rods with me and lobbed out the head of the first mackerel I caught, stopping the spool as the bait sunk through the deep water so it would swing in towards the base of the rock face. As usual I popped-up the head by lashing on a small piece of polystyrene with bait elastic; it's a proper snag-pit of a mark.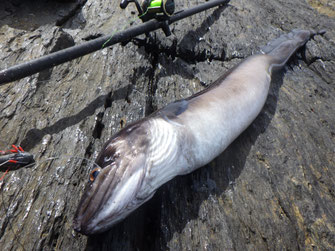 It wasn't long before the rod tip was rattling - I landed and returned a big LSD, not really what I was expecting or wanting.
A few minutes later, a proper run. I felt the weight of the fish briefly, then it was gone taking the bait with it and I wound in an empty hook. I cast out another head.
A few minutes later, the ratchet was buzzing again. This time I connected, and a weighty fish was banging on the rod-tip as I hauled it up out of the depths. Soon a conger surfaced, not your normal Sheep's Head strap but a proper size one.
I hadn't given as much thought as I should have as to how I'd land such a big eel. I shuffled along to my left and down onto a lower ledge, then waited for a bigger swell before half sliding and half lifting the conger out. It was hooked well back in its mouth, but I got the hook out with my trusty Gemini disgorger. The eel coughed up two mackerel heads, the one I'd hooked it on and the one I'd lost! I couldn't be bothered with wrestling it to get a weight - it was a really thick one and I doubt any change out of 20lbs.
I was slightly surprised not to get any more takes, but to be fair I soon had a bucket of mackerel and as I wanted to get the ones destined as bait into the freezer ASAP I didn't stay on after that.
On the 3rd, for a change I headed down towards Mizen Head to fish an evening tide on a sandy beach. There was a really nice surf running and it looked good for a bass, but all I caught was a couple of nasty little weever fish; a first for me in Ireland anyway. I'll be back for a bass later in the autumn, maybe.
On the 10th I was back on the rocks, fishing a neap tide on a deep north-coast mark. It was a bite every chuck but apart from a strap conger first cast it was all LSDs. Finally I had a better fish as a decent pollack took a fancy to one of the pop-up baits. It's disappointing though not to have contacted a ling from this mark this year given the depth.
I had another relatively disappointing session on the same mark a few days later, this time after wrasse, surprising really given there'd been loads there earlier in the summer. I think maybe the storms at the end of August had unsettled them, probably it's back to normal by now. I float-fished limpet baits and did get some, but the bites were sporadic and the wrasse small to middling.
I'd been waiting for a settled spell to have a try on the trigger fish mark. By the 20th I'd decided this was as good as it would get - a calm day following a short spell of east winds that had killed the swell. Another disappointment  - after giving them the best part of the tide I decided the triggers weren't going to show today, or at all this year in all probability, and moved out of the bay a bit further along the rocks to have a go for pollack. At least the Plan B worked - in fact the pollack fishing has been very steady right through this season, with lots of fish of 2 - 4lbs. I've been making a conscious effort to wean myself off my Redgill habit ...
That's one of several on a candy-striped Savage Gear Sandeel on a north-coast mark after I abandoned the trigger session, and one from the south coast on a session earlier in the month on a generic orange jelly-worm thing from the Glasgow Angling Centre sale a few years back.  The jelly-worms came in a mixed box of black, orange and white but they've sat so long in my tackle cupboard the orange dye has leached into the white ones to make them a sort of peach shade! I've also had the Savage Gear lures for ages - I notice they've discontinued the weedless heads now which seems a strange decision.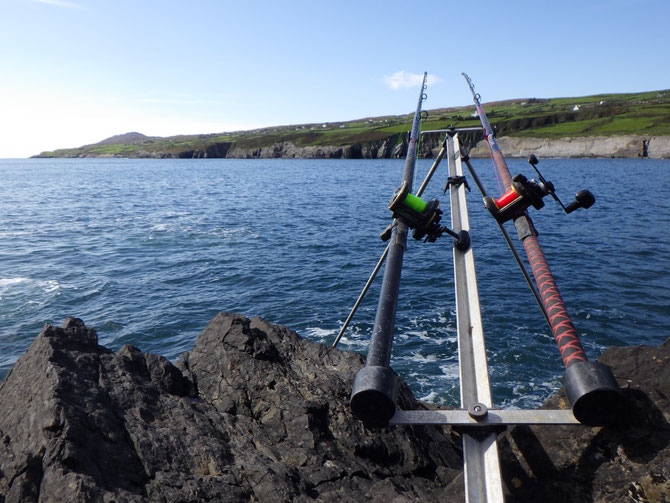 The last weekend of the month I wanted to try the bottom rods on a couple of marks where I've not fished them before.
On the Saturday it was south coast on a lovely sunny day, though with a chilly east wind off my back. I've fished the mark before for pollack and mackerel - it was slightly trickier access carrying all the bottom gear but comfy once there. The session didn't get off to a great start with the first cast on both rods getting snagged, one set of gear lost, but it seemed clearer casting further round to the left and I only snagged badly once more in the session.
I had quite a few knocks and rattles that didn't come to anything, one modest strap conger and two nice huss that came in quick succession just into the ebb ...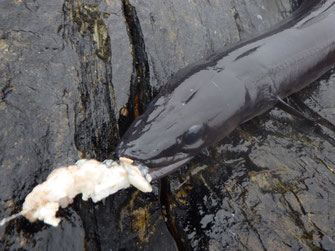 The Sunday it was north coast on a day forecast dull but dry. It was still and warm and for some reason I thought I'd be okay leaving my coat in the car ...
I had my doubts about the mark, expecting it to be very snaggy but in the event it proved quite viable ... I lost a couple of leads when the rotten bottom I use gave way (as intended) with fish on and a complete set when I wound into a snag retrieving. Otherwise, okay and very deep so maybe another possible for a ling.
Today though I kicked off with four strap congers in the first four casts, then a quiet spell as the tide topped out.
The already low cloud descended to sea level and it started to drizzle. Thick, soaking drizzle. It was really unpleasant to be honest and I could easily have been persuaded to pack up. It was only the socially-distanced company of a guy just off in a RIB doing mackerel drifts that decided me to stay. He looked even more wet and miserable than I felt!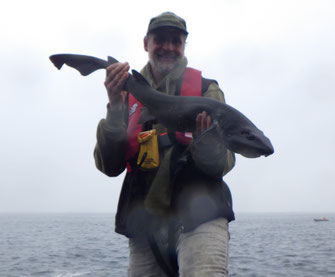 Anyway, I'm glad I stayed on as it turned into a decent session as the tide dropped away.
First off a screaming run on a mackerel head, and one of the liveliest fights I've had from a huss. It was positively zipping around and I was wondering what I'd hooked till it surfaced. The pic gives just a clue about the conditions and you can make out my "mate" in the RIB.
Next a more delicate bite and a more traditional fight but a bigger huss, an unusually attractive-looking one compared to the normal near-black ones.
That was on a mackerel head again and so was the last bite. Another good run but a different fight, this one the banging of a decent conger as it lashed side to side. I soon had it up to the surface and onto the rocks, about 15lbs.
It has been a really good month mullet fishing, one of the best since we moved to Ireland in 2015.
First up Rosscarbery, and a rare chance this year to fish in company. My old friend Jim Murray was down from Dublin for a long weekend. Jim's a Scot who's been living and fishing over here for years. His early writings in the NMC magazine about Irish mullet fishing indirectly brought me to Ireland for the first time and changed the course of my life!
I drove down on Friday 4th and  found Jim fishing the lagoon on leger. He had a fish about a pound soon after I arrived and another double that a little later, but as there didn't seem to be any bigger fish showing I moved across the N71 to fish the estuary pool below the causeway.
There was an awkward cross-wind but I was soon getting bites and landed thicklips of 3:09 and 2:13. I texted Jim and he replied that he'd move over. I had a 3:04 before he arrived.
Jim popped back to his car to get his rod rests he'd forgotten and while he was away I had a massive bite. It seemed a bigger fish and surged out, then came off after a couple of seconds. Oddest thing though - dangling from my hook were two split shot on a couple of feet of a really fine mono or fluoro, I doubt more than 2 or 3lbs BS. Presumably the fish had been trailing that lost gear behind it and my popped-up hook snagged it. Glad I've done the fish a favour getting rid of its unwanted load, though my guess is it's still carrying at least a hook.
Anyway, Jim got fishing and predictably things went very quiet. We didn't get a definite bite for over three hours till my right-hand rod lunged over.
I was fishing about 40 yards out and the mullet went about as far again in a series of short but powerful runs. It surfaced just to the right of a pole that by accident or design marks the start of a load of snags, wreckage of old oyster pens from years back that lie barely under the surface. The fish ran a bit further and I gave it as much stick as I dared to try to keep its head up. It came back a few feet then everything went solid. The mullet started swirling on the surface. It was snagged. Its tail kept coming out of the water as it thrashed about; it didn't look particularly big but then it was 80 yards away.
I've had fish go into the oyster pens before and it's never ended well, but I went through the motions of alternately pulling to see if I could shift the fish and giving slack to see if it would free itself. No joy. I walked along the grass to our right and as far out onto the rocks as I could to change the angle of pull. No joy. I walked back to Jim. By this stage I thought the fish was probably off but then we saw a weak swirl and Jim said try the other way, so I walked away along the road across the bridge to our left and heaved again ... a bit of movement but I could feel the line was grating through the snag. I tried again part way back to Jim, and suddenly I was getting line back. It felt like the fish was coming bringing part of the snag with it, but then it got easier.
It was a long drag but the fish was pretty much knackered. It gave a bit of token resistance close in then Jim had it into the net and onto his scales. 6lb 9oz of mullet that I'd more-or-less given up on ever seeing on the bank.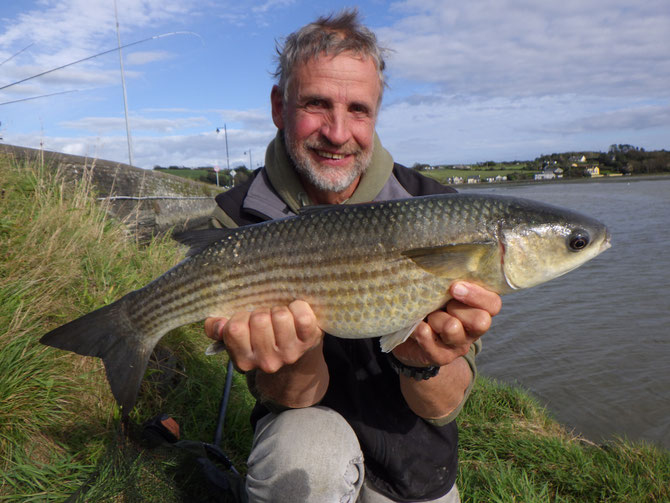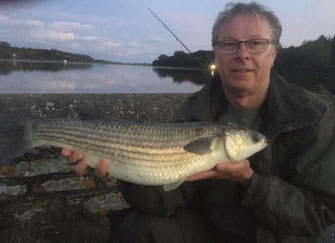 That was my best mullet at Ross (or anywhere) since January 2018.
A small crowd of other anglers arrived from Dublin to fish the weekend. They soon had a six-pounder themselves on the Friday and several big mullet including a 7:01 on the Saturday. On the Sunday it was much quieter.
I was getting regular reports by text from Jim, he caught nice fish both days but it was slow going. Then, last knockings on Sunday evening he had this wonderful new PB of 6lb 8oz.
I went back on the Monday. New NMC member Duncan from Northern Ireland was there and just netting a fish as I arrived, and Jim turned up soon after. Despite Duncan's early success it was a slow day ...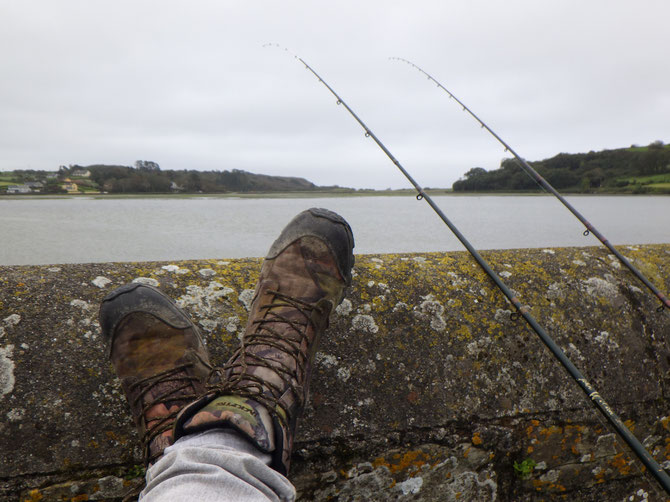 ... until late into the afternoon when we started seeing a few fish moving. When the bites came they seemed determined to jump on my baits and I had three, best 4:13 and 4:15. 
Duncan had just his early fish and Jim blanked, though he had a couple of nice 4s on Tuesday morning before heading off up to Limerick to fish there. It's the last county left of his self-set Irish county challenge. He's caught mullet in every other county on the island of Ireland with a coastline including Leitrim which has only a very few miles of shoreline to choose from and Kilkenny which has only a few hundred yards of muddy tidal river frontage above Waterford!
I next fished at Rosscarbery on a neap tide the following weekend. The water was unusually coloured but there were one or two nice fish moving by the wall just down from the hotel. Jason was just setting up so I left those ones to him and tried by the bridge arch but barely saw a mullet the whole time. At least Jason had one, a nice fish of 5:13.
I was back on the 18th on a bigger tide but with a howling easterly wind ...
I was tucked up snug under my brolly but the conditions were challenging in the extreme.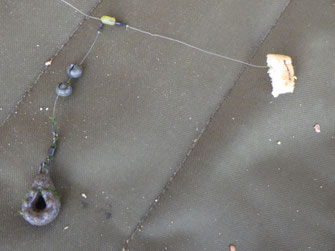 My lines kept dragging round to the right. I didn't have any leads bigger than the 1.1oz Grippas I usually use, but the addition of a couple of double SSG shot on each rig as a kind of anchor chain sorted that out.
There was no chance of spotting delicate bites, but thicklips of 5:02 and 5:01 hung themselves on early in the afternoon.
After a quiet interlude, I hooked another fish just as the tide was starting to push into the pool. It ran right across to my right where I beached it in the shallows, 4:06.
By the time I'd dealt with that fish the tide was threatening to flood across the grass where I was set up. I went to wind in on my other rod and pack up, but found the line had moved uptide and upwind to my left with a fish on and a good bit of weed too. Most of the weed came off as I played the fish, several minutes trying to stop it heading under the road in the torrent of water now pouring through the bridge arch into the lagoon. I eventually got the fish to the net only to have the hook ping out with the fish half over. It slid back and swam off as I tried to push the net under it ... a bit bigger than the other 5s I'd had earlier, losing it like that took the edge of a nice session just a bit.
I was back again on the 23rd, a much more benign sort of day but a smaller tide. There were mullet showing but mostly well out. I had a couple of mid-4s out in a little flurry of bites over lunchtime, then a long wait till a lovely 5:01 in the evening sun just as I was thinking about packing up ...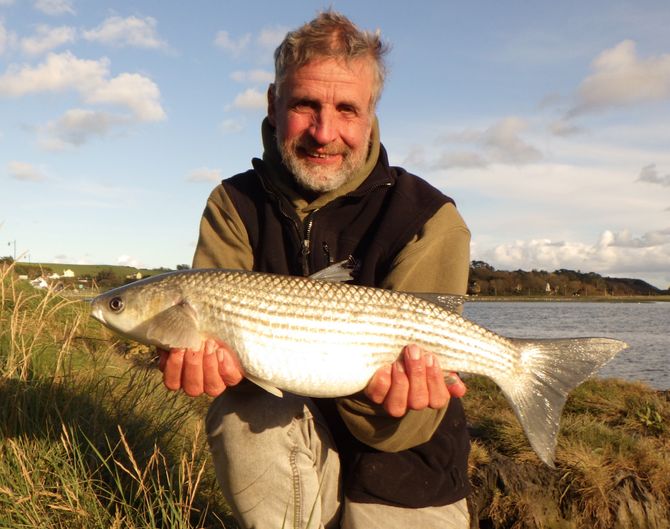 My final visit of the month was on the 28th. I fished from the same swim on the grass and it was a busy if slightly mixed day. I'd left my camera at home, I broke a quivertip on my Drennan rod trying to cast with the line wrapped round it, I hooked three decent mullet that came off for no obvious reason at various stages of the fight. On the plus side, I landed four nice fish: 4:06, 5:03, 5:06 and this cracker of 6:07. I had to collar a kindly lady passer-by to take the photo on her phone and email it to me ...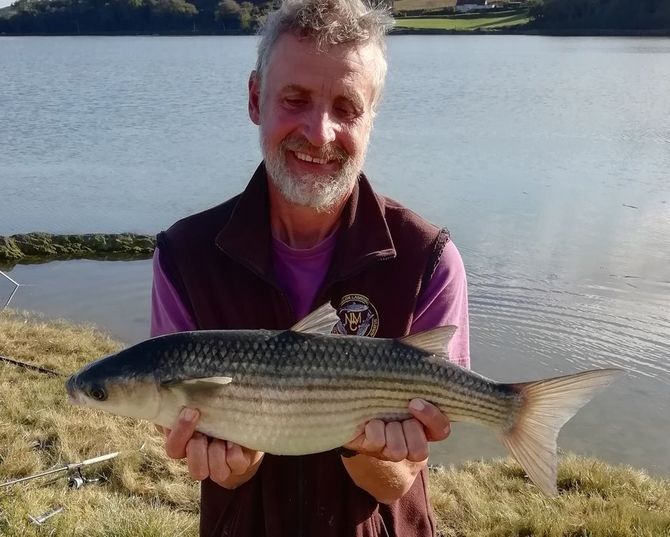 All of my Rosscarbery mullet have been on crust bait, legered mostly at range though when the tide's been up I've had a couple fishing closer in.
Meanwhile I've had a couple of great mullet sessions closer to home on the low water rocks in Bantry Bay, fifteen mullet across the two sessions.
Both days have played out the same way, with the biggest fish taking first, 4:01 and 4:03 ...
... and then a succession of middleweight fish mostly 2 - 3lbs taking the fish baits and putting a nice bend in the Preston float rod ...
Towards the end of each session the mullet went off baits fished subsurface in the traditional way and bites dried up although there were still fish visibly swirling in the swim. I winkled out a last one or two by putting a piece of plastic bread on the trace as a second float just a couple of inches above the fish bait so the bait would fish just beneath the surface, under the plastic bread. It's quite exciting getting a big whelm, then the fake bread disappears, then the float slides under, then strike...
The last of my mullet fishing has been in the estuary down towards Mizen. I did a couple of sessions that disappointed with just a single pound-size mullet each time ...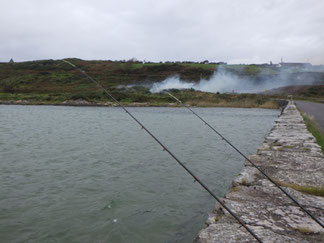 I wasn't convinced the bigger mullet would come up with the tide into the shallow pool with the water so clear and the sun so bright, so I chose my next visit on the evening high water of the 29th with the weather forecast a bit manky.
I stepped out of the car and immediately thought I might have overdone it, with a stiff and surprisingly chilly SW wind right in my face on the causeway and already flecking with rain ahead of a front that would move through later in the night. The gorse-burning going on somehow added to the sense of impending doom, but I was there now and determined to give it a go.
It was very bleak indeed but as the tide peaked I thought I saw a knock on the right-hand tip, then the line fell slack. I wound down and struck, and connected. It was a strange fight with the fish almost swimming itself into the wall. I thought it was small and wasn't too bothered about pausing the fight to pull some weed out that was in danger of jamming up the tip ring of my rod. While I was doing that I caught sight of the fish, and promptly got the rod back up properly - it was a nice one, very nice in fact. 
The close-in fight once the fish woke up was a bit nerve-wracking but eventually I had the mullet at the base of the wall and scooped it into the net ...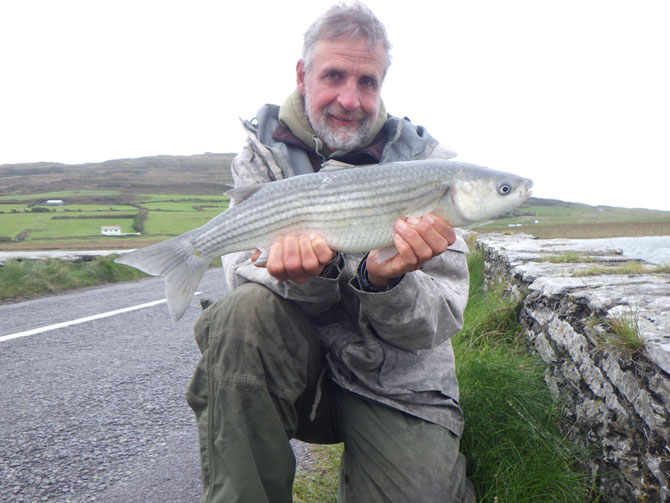 At 5:01 it was only my third of 5lb+ from the venue, the first being over six years ago on the very first time I fished there. Its significance was enhanced by its displacing a 4:03 from my NMC Top Ten list and taking the total over 50lbs ... that's the aggregate of ten fish with a maximum of four from any one venue, and though I've won the trophy a few years recently, it's a good while since I've topped 50lbs.