Tuesday last week I picked up my old friend Steve Smith from Cork Airport; Steve was over for his annual mullet bash with us. It had been a miserable wet day and we didn't intend fishing, but it brightened up progressively as we headed west and I couldn't resist a look at a mark on the Sheep's Head as we neared home. 
I chucked out a few crusts and we watched, but nothing moved to them. Steve however spotted a mullet flanking occasionally as it scraped the stones on the bottom of the shallow gulley. It looked a decent fish, so we headed back to the house, offloaded Steve's suitcase and headed out again with fishing tackle. 
Ninety minutes later we packed up fishless, Steve having missed the only bite of the session. I secretly hoped this wouldn't set a trend for the week ahead, especially after the lean trip Steve had had last year.
Bright and early we were out to fish the bottom of the ebb and low water on a local rock mark. I really wanted to get Steve off the mark, so I fed bread into the swim little and often while he fished. He was getting sporadic bites almost from the off, and before long he connected with one ...
... which went 3:05, and twenty minutes later another of 2:05.
Mission accomplished, I started fishing too and soon added another mullet to our total, though only a small one of less than 2lbs. We couldn't get another bite after that, but we carried on fishing down to low water and beyond. The change of the tide didn't change our fortune, so we released the mullet from the rockpool where they'd been waiting patiently and headed home for lunch and a quiet couple of hours before going out again for the evening high water.
By 5 p.m. we were set up with our leger rods near the top of my favourite estuary on the Mizen peninsula, waiting the arrival of the tide. 
It was a pretty quiet session apart from about a half hour feeding period when Steve had a 3:10, I hooked and lost a fish of similar stamp then caught a much smaller one of barely a pound. I'd left my camera at home so thanks to Steve for these photos ...
Thursday was forecast windy with outbreaks of rain, so we headed for Rosscarbery where we'd be able to find some sheltered fishing should the need arise. We had a good look round on arrival, and the only fish we could see moving were around the bridge arch on the edges of the flow out of the lagoon. We set up nearby, Steve deciding to floatfish while I put out leger rods. As it happened I had a clonking bite on my first rod while I was still setting the second up, and landed a nice 4:03 after a spirited scrap. Half an hour later, I was in again. This time the fish came in easily and then ran back and forth along the rocks, staying deep. It was all rather nerve-wracking and I was pleased when Steve finally netted a lovely 5:08.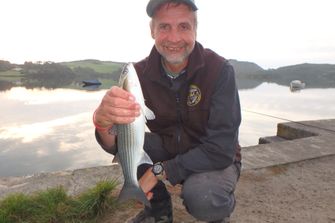 Steve joined me on leger but although we continued seeing odd fish for a while, we couldn't raise another bite over the high water period. We tried another swim down the west side of the estuary, then the lagoon, both without success.
Friday's weather looked promising. We were up before dawn to drive down to the lovely Lough Hyne near Skibbereen. It all looked perfect as the tide inched up, but mullet remained conspicuous by their absence apart from this one little one that dragged my float under completely out of the blue. We packed up after three otherwise fishless hours, and went for a nice breakfast at the Church Cafe in Skibbereen.
Then we drove up to Bantry Bay for another crack at the rock mark where Steve had scored on Wednesday. The mullet were ready and waiting and Steve was soon in ... but the fish threw the hook after a couple of minutes. He bumped another on the strike a few minutes later and this properly killed the swim. We couldn't get another bite on bread and changed over to mussel bait - not a bad option for the mullet at all, but today it brought us only wrasse and small pollack.
Saturday early, we headed back down the Mizen to catch the morning high water before a lot of rain arrived ...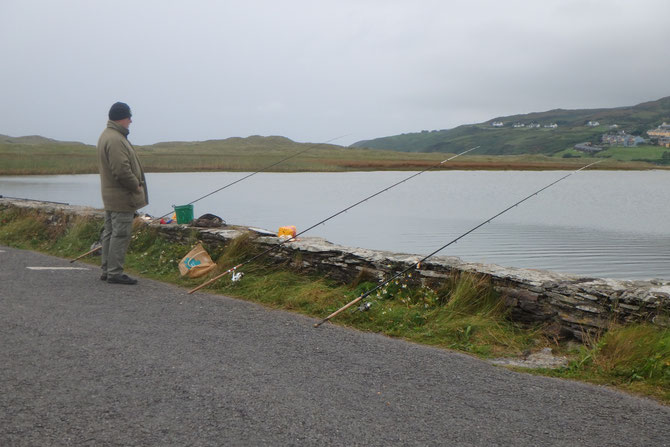 As the tide flooded into the pool, I had a little drop-back bite that yielded a 2:14. That was encouraging and we fished hard. A couple of hours later as the ebb tide picked up, Steve had a rod bender that resulted in a 3:02. It wasn't a lot of reward for our efforts but at least Steve was up and running again.
We thought we might get a while on our rock mark in Bantry Bay, but the rain set in as we drove back east so we gave it a miss. We spent a fairly miserable couple of hours on the Railway Pier pontoon in Bantry catching a few miniscule whiting and a solitary mackerel. Not a sniff of a mullet.
Sunday dawned foggy but more-or-less dry. We started out on a local pier just to catch a few mackerel for a meal. Steve obliged, catching some mackerel of decent size plus some small pollack on the float with sandeel bait, while I inexplicably blanked using a shrimp rig.
Then it was back onto the rocks in Bantry Bay. The conditions were as good as we'd had but the mullet weren't there ... we both fished for a couple of hours, feeding the swim steadily and varying the depth of the baits, but we couldn't get a bite.
Steve was up for some more mackerel fishing so I went back to the car to get the kit and soon had him set up. I went back to the mullet fishing and straightaway missed a bite. It could have been anything but with renewed enthusiasm I chucked in a small handful of mashed bread  ... and a mullet swirled on it as it sank away! I called Steve over, telling him to bring his mullet rod and to keep low.
We sat back from the edge, Steve with his rod tip poked over fishing close in while I flicked tiny portions of bread mash at his float. He missed a string of bites, seven or eight at least, before connecting. It was only a small fish, just under 2lbs, and it was soon landed. I thought the one I'd seen was bigger, so I was hopeful there might be another fish there. Soon after starting fishing again, Steve was in to a better mullet just over 3lbs. Unfortunately this second fish became snagged round some weed virtually under the rod tip. We got it out eventually but it was a bit of a faff, and the disturbance probably ended any chance of more mullet. We fished on. Steve hooked a big wrasse, on bread, that made a more comprehensive job of snagging him in the kelp, while I took over the mackerel rod and added a few more to our fish supper, along with my first ever (and very small) Irish garfish.
Monday was the last day of the National Mullet Club's three day National Rover over the bank holiday weekend in the UK. The leading fish was a relatively modest 5:03 and we thought we'd stand a good chance of topping that at Rosscarbery, so we headed south-east for the day. It was an unremittingly miserable day with a stiff west breeze and drizzle expected to turn to steady rain later. We set up the brolly on the grass by the bridge arch and I catapulted out some groundbait. We cast out our leger lines and hunkered down for the duration.
We had fish moving in front of us, but they didn't come on the feed till high water. We didn't make that good a fist of the opportunity to be honest. I missed a couple of bites and Steve lost two potentially good fish, one when his hook opened out and one with a possibly over-zealous strike that snapped his trace. Sandwiched between these two misfortunes, he hooked and landed a lovely 5:01...
The feeding spell subsided. I went to buy us some lunch from the Centra store, and had a recce of some other swims - nothing much showing so we stayed put. Well down the tide, we started seeing fish again but further out. I'm not sure Steve was reaching them but I had a couple just either side of 4lbs ...
It was raining steadily now so when our fish moved on again we called it a day. It was a case of close but no cigar as regards the National Rover, but we packed up happyish with our efforts.
Tuesday was forecast dry but windy again. We'd hoped to spend the day locally on the rocks in Bantry Bay, but we decided it would be too rough and headed for Rosscarbery again. I'm not sure it was the right decision as the wind never blew up as much as expected and with the calmer conditions and smaller tide we struggled for bites. Steve had a 3:14 on the run-up to high water ...
We hung on in the hope of a repeat of yesterday's late showing, but it just didn't happen. With 20/20 hindsight I wish we'd moved ... after we packed up we had a drive down the west side of estuary and there were plenty of mullet showing in swims that had been devoid of fish yesterday.
Today was Steve's last fishing day and a bit of light relief from the mullet fishing was called for. We had collected some limpets from the rocks in Dunmanus Bay on our way home yesterday, and this morning, once the rain cleared, we headed north and west on the Sheep's Head for some wrasse fishing.
I set Steve up with a sliding float rig to fish the limpets, and he was straightaway hooked into a clonker that unfortunately got down into the kelp and wouldn't be shifted. A pity but no great matter; Steve enjoyed himself catching a dozen or more nice fish over the session, and losing a few more.
From my point of view, the day was perhaps most memorable for my first wrasse captures on small soft plastic lures, apart from one I caught by accident on a redgill in Cornwall about 35 years ago. I've been aware of the growing trend in lure fishing for wrasse over recent seasons, and I was particularly impressed by a recent article on the subject by Bill Brazier in the Off The Scale online angling magazine. So I'd bought a bit of kit and this was its first outing. I have to say I was comprehensively outfished by Steve with his float & limpets, and I'm not at all sure the soft plastics or my technique or even the (deep) venue were necessarily the most appropriate. Still, from small beginnings ...
Anyway, that was Steve's Irish fishing done for this year. We have meal out in Bantry this evening to celebrate a very enjoyable week, then it is off early to the Airport in the morning. Roll on 2018.